I'm pretty happy with the
Contract Damages Flowchart
that I recently created for my students. That link goes to the full PDF. I here offer a shrunken GIF of the one-page classroom handout: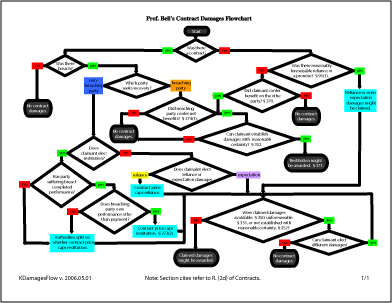 As the fine print at the flowchart's bottom indicates, it represents only a draft version. I welcome your comments. It might help you to know, in judging the flowchart's efficacy, that I aimed to illustrate three main points:
1) How different rights may lead to similar remedies (see, e.g., how quasi-contract and contract claims may support an award of restitution);
2) How claimants may sometimes elect between different remedies (as when a party suffering breach chooses between expectation, reliance, or restitution damages); and
3) How various rules sometimes limit restitution and reliance damages to the contract price or rate.
The draft raises three questions (and I offer three tentative answers):
1) Does the color help or hurt the pedagogy? (I think it helps)
2) Does the contract price or rate cap restitution claims by a party in breach? (I should think so.)
3) Do the doctrines of avoidability and foreseeability limit non-contractual claims, such as restitution damages under quasi-contract or reliance damages under promissory estoppel? (Tough call. I'd venture that those defenses either don't apply to the fact scenarios implicit in those claims, and that promissory estoppel already somewhat incorporates the foreseeability limit.)