I have nothing against having stuff. All else being equal, owning something generally proves better than not owning it. Sometime, I grant, the else does not equate. I thus try to avoid high-maintenance property that serves mainly to signify status, such as expensive cars. I'd rather drive my well-functioning, high-mileage, slightly beat-up 4-Runner than some fancy-pants car that requires aromatherapy every 2500 miles. "Don't let your stuff own you!" I warn.
If you think of material wealth in terms of functionality, rather than mere dollar signs, you will soon realize how incredibly wealthy we've become. Allow me just one example. Ten or fifteen years ago, I would have had to have hire a professional and waited a week or so to get this: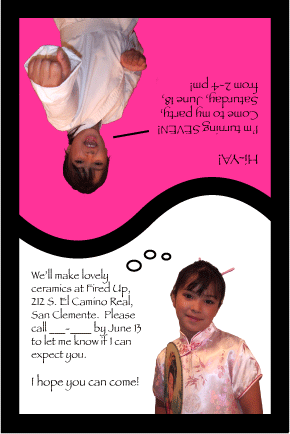 Thanks to a digital camera, a computer, and a few handy programs, however, I was able to make that invitation myself, in a few hours. Or, I should say, "we" made it; d and AJ took part, too.
Does making a party invitation with your family count as a "functional" result? Oh, my, yes. Functionality covers a lot more than, say, shipping pig iron. Moving bits—especially in ways that delight your birthday girl—can mean a lot more than moving atoms.
(By the way, with all due respect and only to avoid an unfortunate misunderstanding, please let me clarify that are not, by dint of viewing the above, invited to AJ's birthday party. Sorry.)